Metronome for Psion 3a
---
This Software for the Psion 3a palmtop is a fully featured metronome for musicians. It beeps in any tempo with rhythmical subdivisions with an accuracy of 1/1024 second. The tempo is also shown visually by a walking black block on the screen.
The user can save all settings to files, so he can have a set of settings for different practising situations. Please read details about the Metronome's features below.
The program is shareware. For unregistered users, there are some nag-screens and the file management is limited to only one user-file for the settings. You can register by paying approx. 25 US$ or 15 Euros to me (address se below). I don't mind if you send cash in US-Dollars, Swiss Francs or Japanese Yen. Only with EC-Cheques or bank transfer it must be Euro.
Es gibt auch eine deutsche Version ...

Some details:
Here you see the main screen in the Metronome application:


In the small window on the left above the current tempo and the beats per bar setting are indicated. On the right opposite you see which tones are beeing played, as well as the calibration of the a'.
In the middle the user's name and the file description are indicated, as long as the metronome does not run. When you start it, a black beam will wander in the tact from the left to the right in this area, so that you also can visually follow the tempo.
In the lower screen area there is some help about keyboard usage. By the way, pressing the help-key you receive a comprehensive Online-help to all functions of the program. These functions can be reached using the menu or direct hotkeys.
---
Included in the program is a tuner which plays tones of adjustable pitch and length: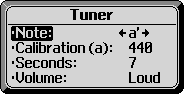 As a special feature there is also a built-in "Tempo-Finder":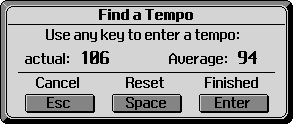 Press any keys in the speed that you have in mind or maybe hear on a recording. The program will display the corresponding metronome number.
---
Meine Anschrift:


fon/fax/sms/mms/mailbox: +49 (0)1803 - 5518 21010
---
Last update: 18.11.1997
© Markus Weidmann
---
This Psioneer Web Ring site belongs to Markus Weidmann
[ Site -2 | Site -1 | Random Site | Site +1 | Site +2 | Site +5 ]
Want to join the ring? Find out how.
---